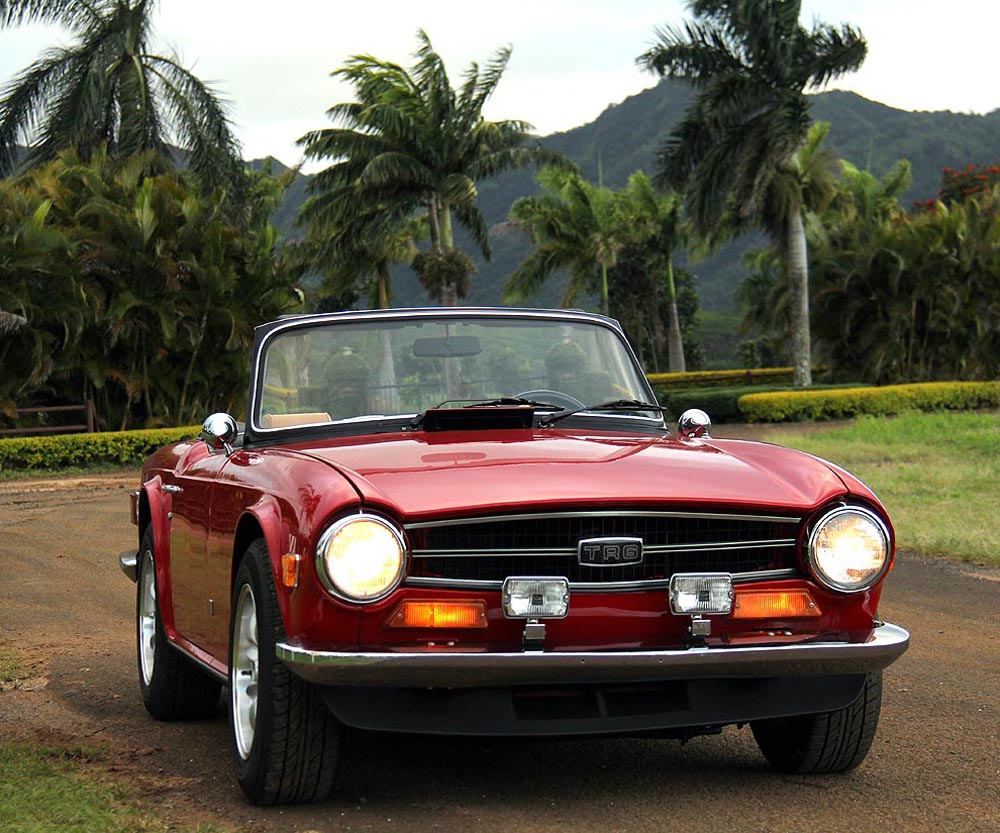 1974 Triumph TR-6
*
My wife Jane's 1974 TR-6 lived most of its life in California, but Arizona was its home for the last few years before I acquired it in mid 2011.
It is a rust free example of the British Marque and it already had the following cosmetic positive attributes.
New Red Paint, New Tan Leather Interior, New Black Carpet, New Walnut Dash Board, New ROTA 8 Spoke Wheels, New Falken Tires.
However the Carbs needed rebuilding and there were some electrical and fuel problems.
Over the first 3 months I added to and improved the mechanical attributes of the sports car. And this is what has been installed so far:
Carbs and Linkage were rebuilt by Jeff Palya of PAL-TECH Industries in Ohio.
A pair of K & N Air Filters were also installed. Stainless Steel Carburettor Heat Shield. A Pertronix Electronic Ignition and Flamethrower Coil.
New Sparking Plugs. A New Mechanical Fuel Pump, complete with New Fuel Lines and Fuel Filter. A Chrome Bonnet Prop Rod.
A Black Crinkle Finned Alloy Valve Cover with Spun Alloy Hold Downs. A set of New Hi/Lo Horns were also wired in and added.
Most of the smog / emission system was eliminated and plugged.
The tired and sagging rear "Armstrong" shocks were replaced with a "Tube Shock Conversion Kit".
Rear Licence Plate Illumination Lamps and Reverse Lamps were added.
My new Vanity Plate came in: 74 TR-6. Vintage NOS Cibie 35 Driving Lights were added to the front bumper.
New Chrome Windshield Topper replaced the dull scraped up original. New Sun Visors and a Passenger Side Talbot Mirror was installed.
A Radio Delete Plate was cobbled up. The infamous and ugly front and rear "Baby Buggy Bumpers" were removed for a cleaner look.
Later on after a couple of years of ownership, I had the whole front end suspension rebuilt.
This included shocks, bearings, polyurethane bushings, new brake slotted rotors and pads, and new parts where needed.
Acting upon the advice of my long time friend trusted mechanic, Will Carroll, we sought out and found a vendor that could add vacuum advance to my original distributor.
After 1973 the TR-6's had only vacuum retard and mechanical advance distributors. This was to compensate for U.S. Smog regulations in early 1970's.
Rob at British Vacuum Unit - can do this all for you. Read the full story, it's all there on his web-site.
Its a simple and cost effective modifiction that is well worth it.
The performance improvement is there and you can feel it in the seat of your pants, where it counts!
*
NEW:
The original windshield was starting to cloud up around the edges and the surface was pitted from life in the desert climate of Arizona.
Making driving and the view through it less than desirable. So in October of 2020 a brand new windshield was installed along with new wipers too.
Around the same time she received a new set of Michelin Defender tires to replace the aging and worn Falken rubber.
*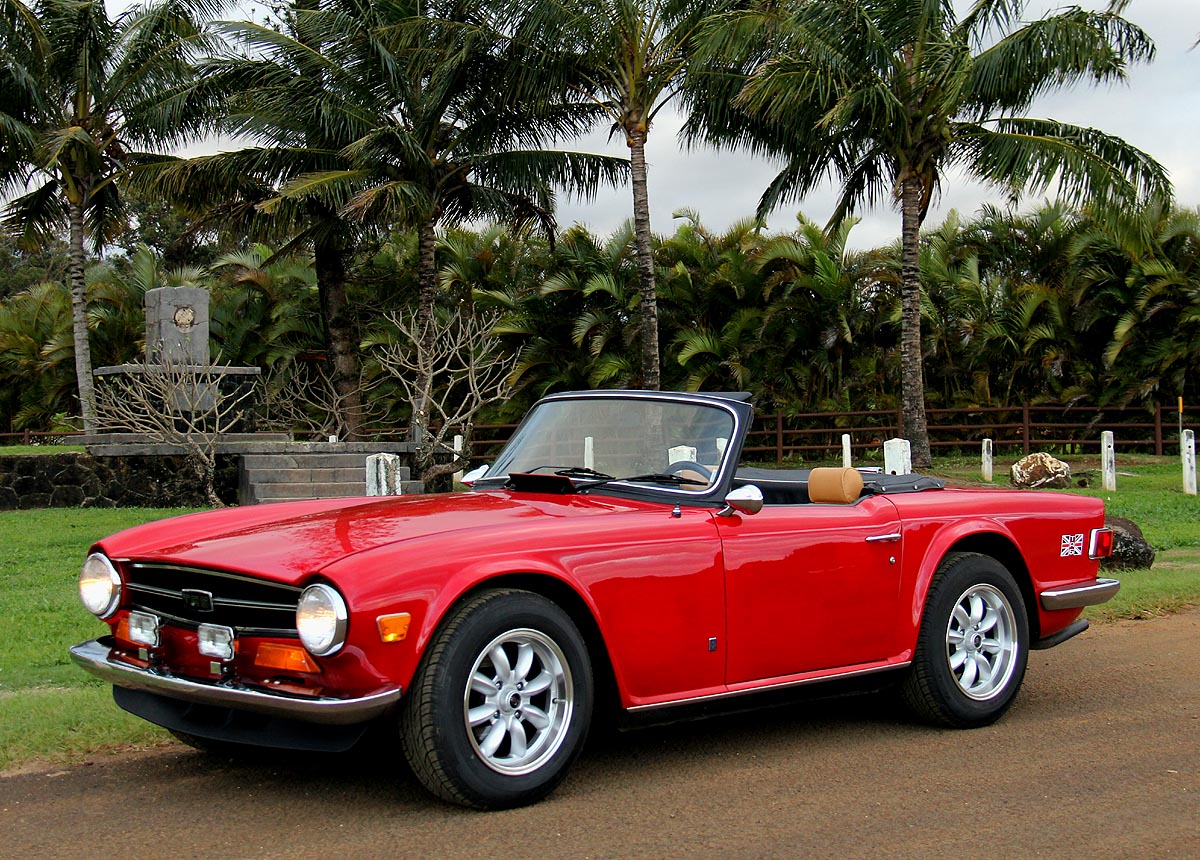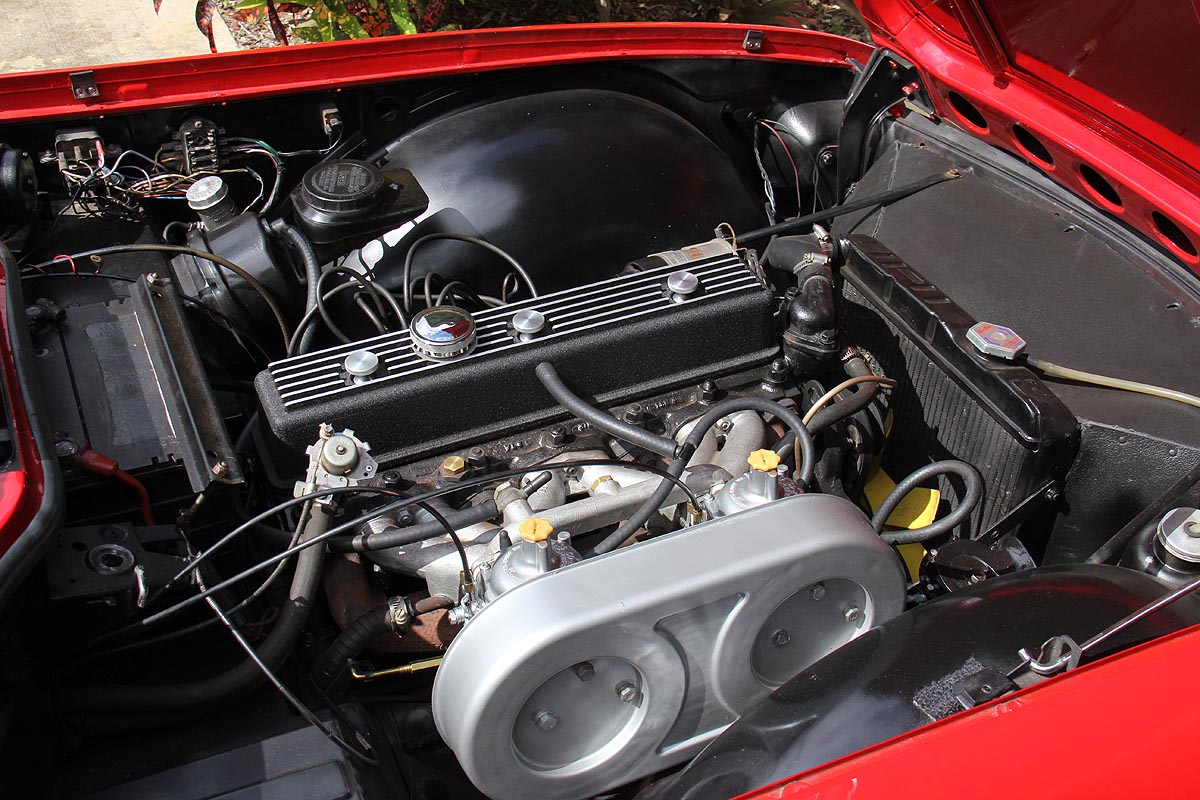 2500 cc Straight Six with Twin Stromberg Side Draft Carburettors. Horsepower weighs in at about 100HP
Back
Version 11/16/20