Surfdog Surfing Photos
Disclaimer
Unless you are a pro surfer or at least, an extremely accomplished surfer with surf-photographer friends,
then collecting photos of yourself surfing can be a daunting task.
Admittedly, some of the few pictures I had collected were lost during Hurricane Iniki.
But to be able to get good photos of yourself while surfing, you need at least 3 things:

1. Someone on the beach with decent equipment, and knows when to push the button.
2. Good waves, there should be good waves and then its a good day for surfing.
3. It would really help if you were having a good day in the surf during your session.

To have all 3 things come together at the same time happens very infrequently. At least from my experience.
Lately over the last 10 years or so, I've been able to come up with a few times when the criteria comes together.

The Early Years
I started surfing on the east coast in New England in 1965, by the end of that summer, I had caught and rode my first waves.
I did find some old shots of my early days on the east coast.
In my search for waves, we sought rideable curls in Maine, New Hampshire, Massachusetts, and Rhode Island.
We rode places like The Wall and Rye on the Rocks in N.H.
Matunuck and Newport 1st Beach, in Rhode Island.
The Cape, Lynn and Revere beaches in Massachusetts.
These photos are dated Aug. 11, 1968
Taken on a beautiful summers day at 1st Beach, Newport, RI.

I was still trying to figure out what a cheater 5 was!
It didn't take too long before I realized the waves weren't all that great and the water was really really cold.
I was also handicapped by where I lived and the proximity to any of those beaches.
So in 1972 I moved to Southern California
Settling in Huntington Beach. The real and original "Surf City".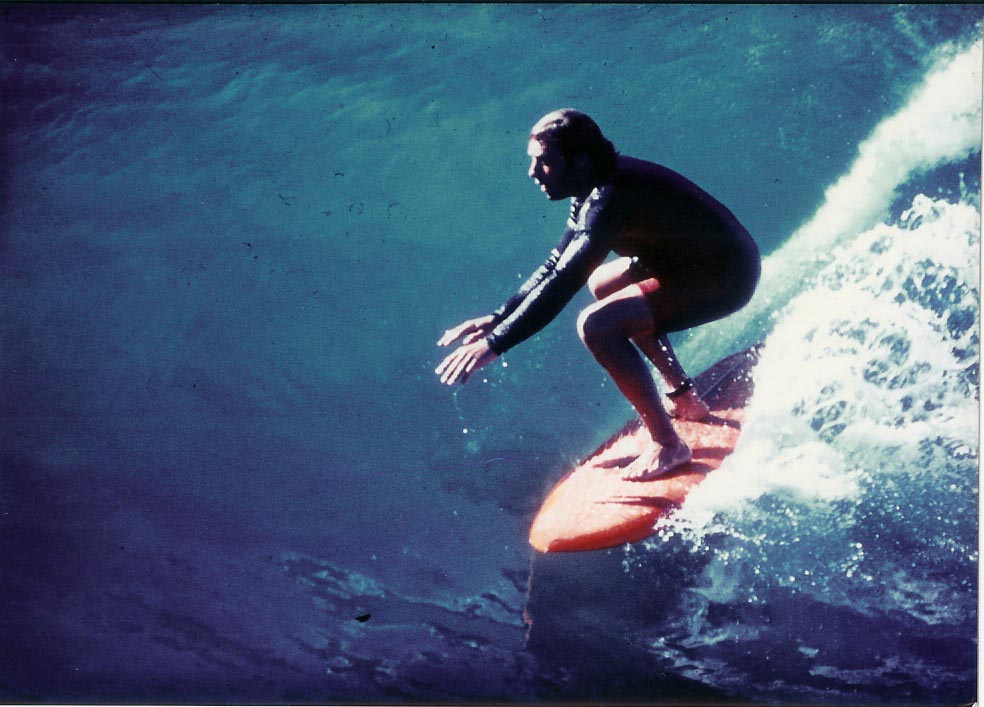 This shot was lost for decades and originally came from a slide. Given to me by the photographer in 1974.
Mike Moir was a professional surf photog in the So. Cal surfing arena back in those days. The original slide is long gone.
On a recent trip back east to visit my sister, she pulled out some old photo albums.
When I saw this one I nearly flipped because I hadn't laid eyes on it for at least 25 years.
Taken in Huntington Beach on the North side of the Pier.
I had only lived in CA for a couple of years and my folks back east had never seen me surf.
So I had several prints made and sent them to family members. This print was from my sisters photo album. It's a veritable time capsule.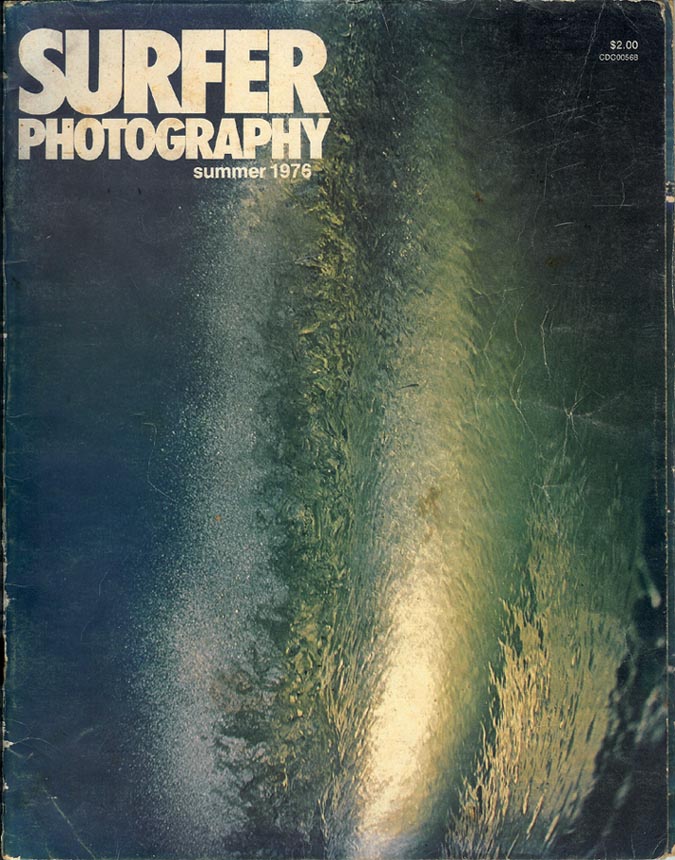 Yes, I still have my very own copy from 1976

And on Page 77.....Summer '76 Surfer Magazine, L to R: David Nuuhiva, Eric Penny, Joe Abramo

Later in that same issue, Unidentified surfer on recycled equipment.
That same Hansen is pictured below with its owner.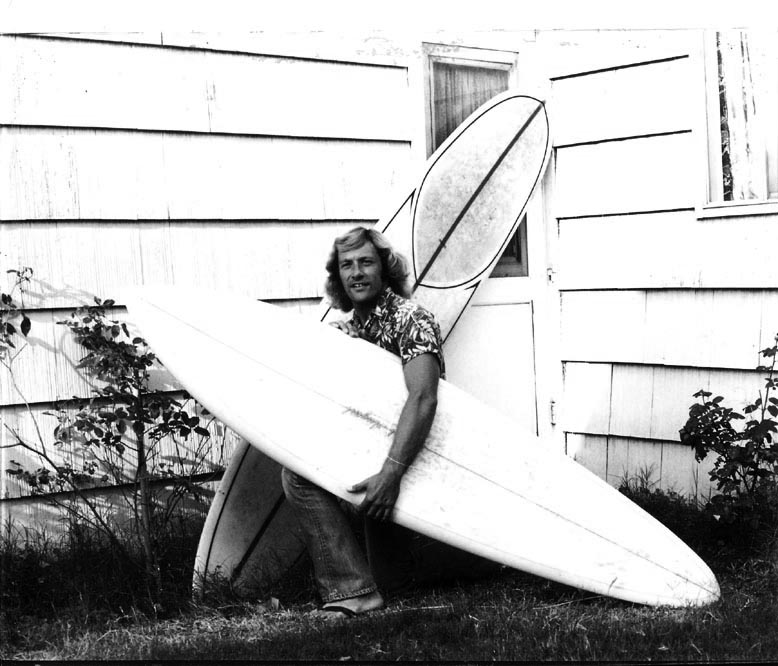 Self Portrait Long Hair, circa 1974, a 7'0 RA rounded pin.
and in the back my 1967 9'8" Hansen Powerflex.
The same board in the double page unidentified picture just above.

If you surf a popular spot often enough, like HB Pier, someones bound to get a picture of you.
They said my style was like Shaun Thomson's. Aww Psshaw.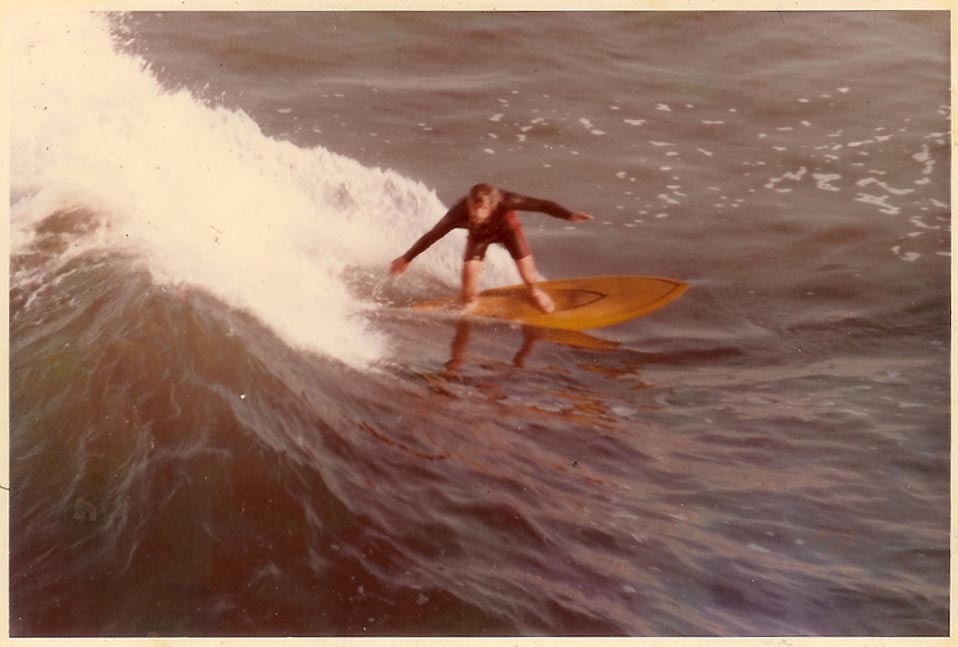 Shot from HB Pier North Side circa '75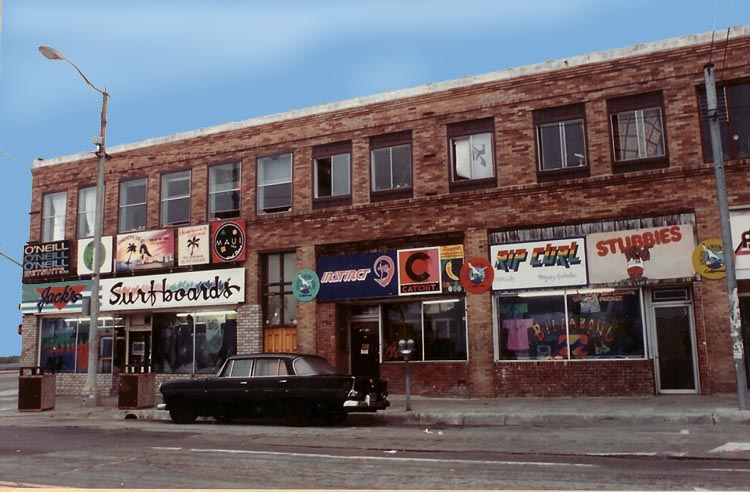 The Old HB Surf Theatre - - - - - - - - - - - - - - - - - - - - Original Jack's Surf Shop in HB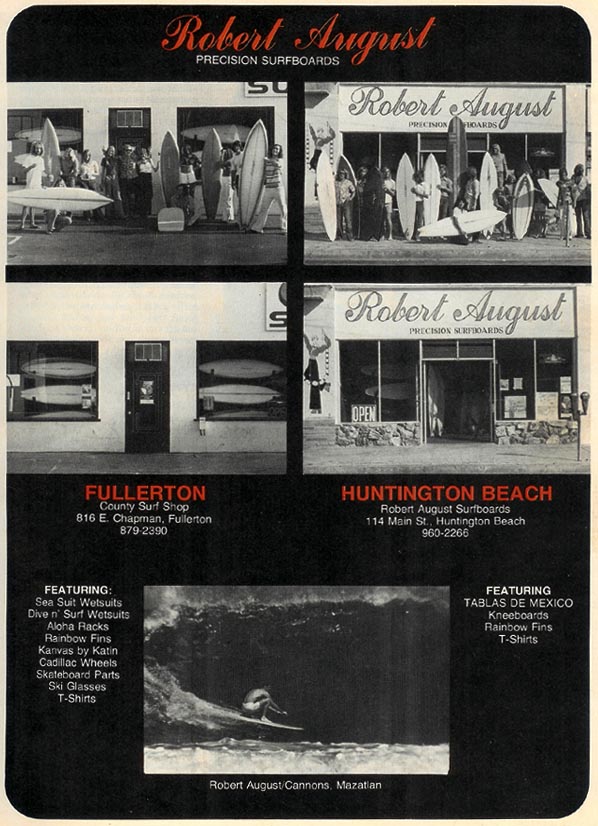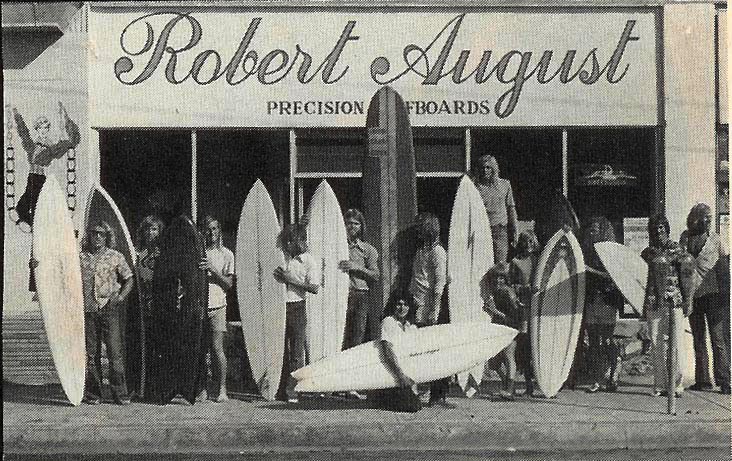 Surf Shop Ad from the 70's: The HB-RA Team, and on the far left: Joe Abramo in a Hawaiian Shirt!
3rd from the right side: Keith Lauderdale. The rest are lost to history.
In 1977, I moved to Santa Barbara, based at UCSB and surfing the surrounding area.


Campus Point Jan. 17, 1978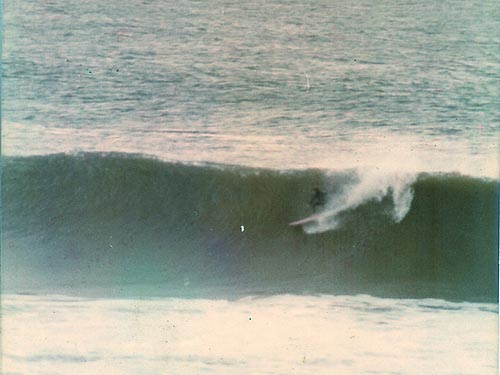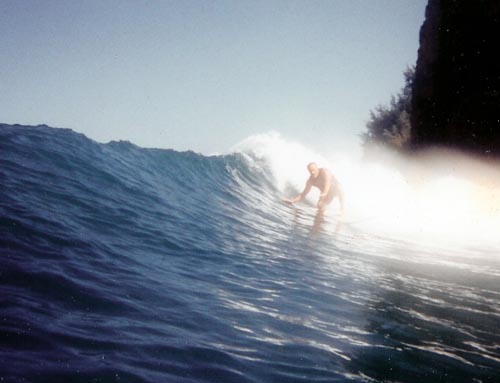 Note the same stance and positioning in a rare water shot at Cojo Pt. at Bixby Ranch, and 25 years later at Kalihiwai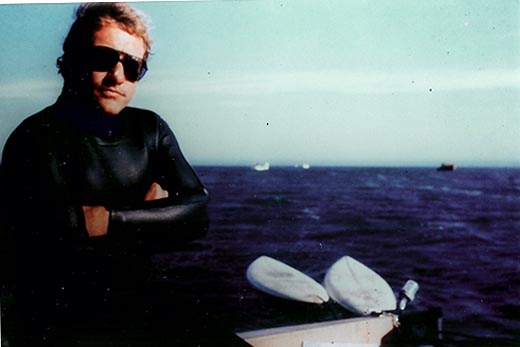 Sunset at Sands Beach, Isla Vista, CA Sep. 1979, 7'2" Rounded Pintail Single Fin Ranch Boating at Cojo Point 1979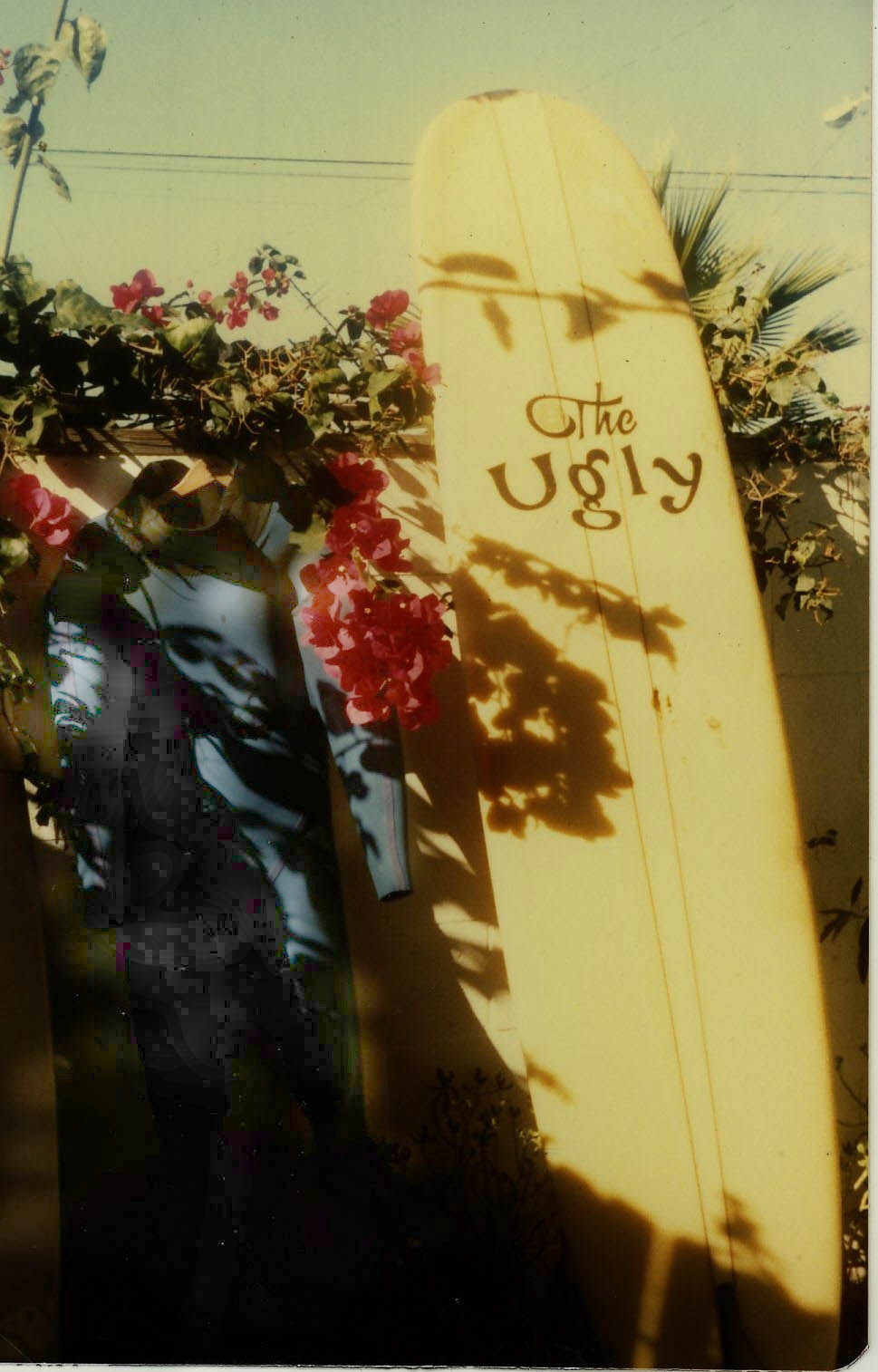 Back in the 70's and early 80's, I still rode a long board every now and then.
This is the Con Ugly. A Full WetSuit is required in SB waters during winter months
In Early 1983 I moved to Kauai.
Settling on the North Shore of Kauai. Dates are approximate, especially the earliest photos.


Trademark Hand Draggin at Hideaways, March, 1985, Scanned from a slide that was lost for at least 15 years.
Emailed to me by the photographer Harry Rabin in 2001.

Tunnels in 1989, man with a gun.

Hideaways circa 1990. Photo Credit: Jay Streed
This picture saved after Hurricane Iniki was thought to be damaged beyond repair. I peeled it from under the soaked glass desktop and allowed it to dry.
Recently it turned up during a nostalgia trip through our old photos. I scanned and Photoshopped a few spots and made it 1/2 way presentable.


At Kalihiwai on the day after Thanksgiving 1995

The grainy ones seen below are actually from the video above, shot by my brother Dave Abramo in 1995.
They are video captures made before digital cameras came to the forefront.
These 4 below were shot on video and painstakingly captured and converted to JPG files in late 1995.


Kalihiwai Nov. '95

Kalihiwai Nov. '95

Kalihiwai Nov. '95

Kalihiwai Nov. '95


Polihale 1996 New Board Fall 1996


Kalihiwai, March 13th, 2003
***************************
The stills and the clip below were all shot on the same day: May 05, 2003 by Harry Rabin - On the Wave Productions

Kalihiwai May 5, 2003

Kalihiwai May 5, 2003

Kalihiwai May 5, 2003


*************************************************************************************





Pakala's July 2007

Pakala's July 2007
*********************************

Voodoo Reef Sequence, Feb 23, 2010 shot by Jeff McBride

Feb 23, 2010


Feb 23, 2010


Feb 23, 2010


Sept. 25th, 2010: HD Video Clip at the Bowl at Hanalei. Shot by Terry Lilley. This is a still frame grab from the youtube video clip below.........

*****************************************************************************************

After days of surfing in brilliantly clear Kauaian skies, my balding hairline was starting to fry.
This should explain the goofy hat.


Nov. 14th, 2010 courtesy Jackie Abramo


Nov. 14th, 2010 courtesy Jackie Abramo
Back to the Falcon Page
Ver- 04.02.2021