Surfdog's Engine Swap Photo-Log
Scroll Down to follow along a 2 week period in May, 2001.


Back of New Engine in the Back of the Truck,, after pick-up at the docks.
Note broken wooden mountings after a long hard voyage by truck, ship and truck again.

Good old 289 with 103,125 miles on her. She's all disconnected and ready to be lifted out.
Note Radiator, Fan, and Hood are removed.

Chained up and Angling out of the Engine Bay. The 1st few inches lifted are critical for clearance and angle.

Joe Licona, Master Mechanic, lending an expert hand with the extrication.

Here Surfdog is using brute force to hoist that baby out.
Note Cross-Bow and Boat Props in the background!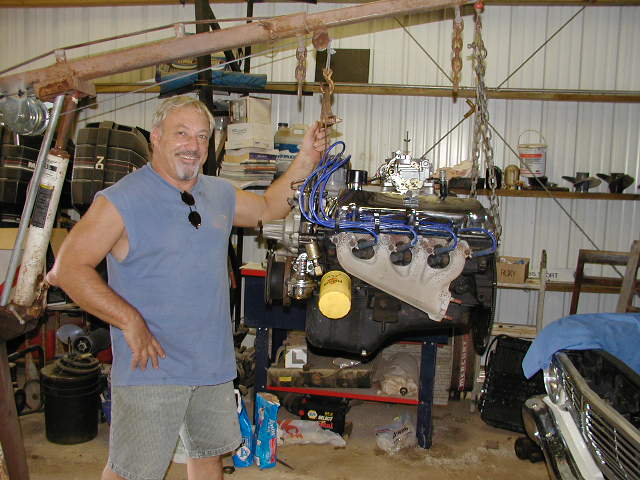 Fully Extricated and hanging in mid-air. This old original 289 pushed the Falcon thru the quarter mile in 15.170 secs.

Mighty Empty Area, Note the Kitty Litter absorbing spilled tranny fluid.

Without an Engine in the bay, the stance is noteably elevated.

New 306 c.i. Aluminum Headed Beast readied for Insertion.
Headers, and Fan loosely attached for fit and pictures. (SMILE!!)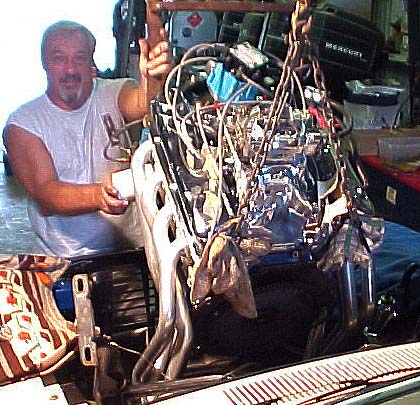 Sorry, Surfdog, it aint gonna drop in with them headers attached.

Sometimes you just gotta get in there and tweak it.
Tightening the header bolts, 16 hard to reach little buggahs

Slight 3 day set-back. If you look closely you can see the column shift lever hitting the #8 header tube.
After fiddling around for a day, I had to order a B&M QuickSilver Floor shifter. Problem solved.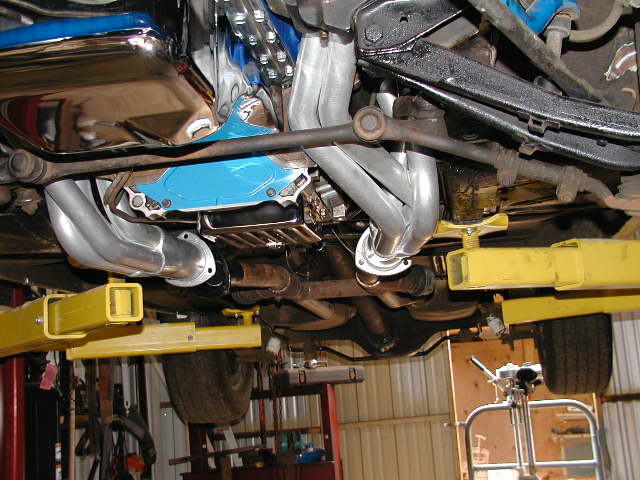 Ceramic Coated Headers Gleaming along with Chrome Oil Pan.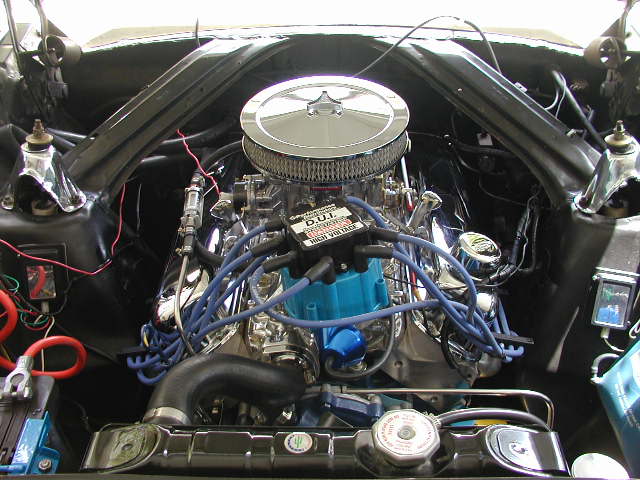 All hooked up and ready to rumble.
She's a beauty, and fast too.